Antoine Sudan is a graduate engineer in project management. In 2014, while working in a company, the Staviacois finds that managing team tasks without the right tools can be chaotic in the face of a growing mass of information. He therefore decided to team up with a friend to develop an application capable of coordinating work in a company in a simple and efficient way.
"This will never work. That was the verdict of the first person to whom we presented our project three years ago. He was a former professor. He said it' s impossible to solve complicated problems with simple software. But that's exactly what my friend and I had in mind.
Fortunately, our engineer mentality quickly took over. What's the point of letting ourselves be beaten down by criticism?
It is best to get as much out of it as possible to find the right solution. In order to establish the chances of success of our application, we went to present it to several potential customers. Get out of the building, a rather difficult exercise for me. Indeed, the prospecting made me nervous at first. It's hard to get out of your comfort zone and present a growing idea to a business owner. In the end, it was by acting that I gained confidence. Our project became clearer as the meetings went on and I gradually set aside my doubts. My friend and I had a lot of questions and it was often our contacts who gave us the right answers.
Our tenacity seems to have paid off. WEDO is currently used by around 40 clients, including the Fribourg Cantonal Bank. My friend and I can live off the income from our business and therefore dedicate ourselves entirely to its development. One thing is certain: overtime will continue to accumulate! This is a new challenge that we have to face. When you're self-employed, you also have to know how to stop for a moment and look back to savour what you've accomplished. The bottle of champagne has been chilled for a long time. I hope that we will soon find the time to open it. »
Our tenacity seems to have paid off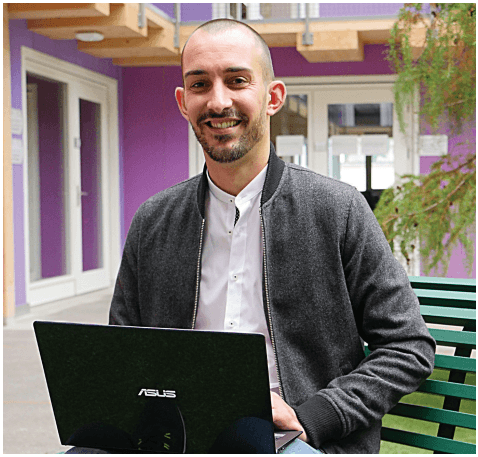 Antoine Sudanco-founder of WEDO Sàrl
Photo: © Kevin Schlüter (Fri Up) / Source: Original Interface article
Ready to dive in?
Start your free trial today.