Retrospective 2020
Your work in WEDO in 2020. We are very proud of your investment in the platform and look forward to analyzing your performance in 2021!
And on our side?
According to the objectives we set ourselves in 2019, we welcomed three new employees in 2020. In January, Chris Rohrbach joined our team as Customer Success Executive. You may have had the chance to take advantage of one of his trainings and maybe even share a coffee with him since he is in charge of monitoring and training WEDO users. To extend the use of WEDO beyond the Röstigraben, we then welcomed Michael Stadler from the canton of Thurgau in May 2020. Finally, Sabrina Leva from Zurich joined us at the beginning of September. Both have strengthened the Business development team. Today, four team members are responsible for the distribution of our tool.
We are particularly proud of our customer support figures. More than ever, we are at your disposal with a response time of less than 10 minutes! Our customers appreciate the speed with which their questions are answered. In addition, they can access a help center at any time, which is now available in French, German and English. We also remind our customers that it is possible to obtain new training in case your team is growing too or if you need a refresher course on how to use WEDO.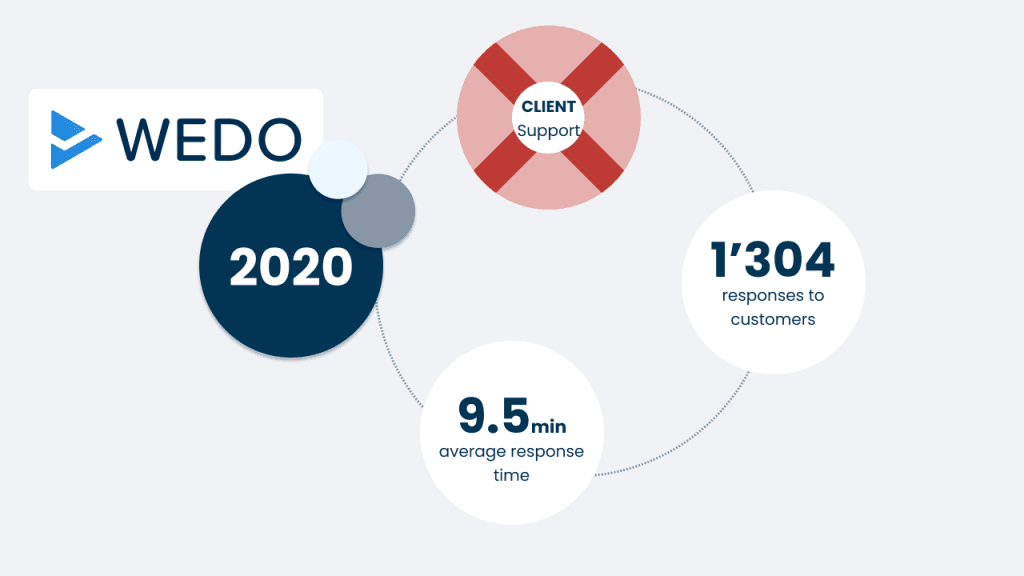 2020 was also about new features...
Discover the major features developed in 2020 in the following infographics. Looking back at the year 2019, which was particularly rich in development - almost one new feature every month - in 2020 the pace was different, notably due to important fundamental work.
Our objective? To constantly improve our tool in order to make it more efficient and intuitive! Many of these developments have been inspired by feedback from our users. We are committed to providing our customers with a collaborative platform that meets their needs and expectations.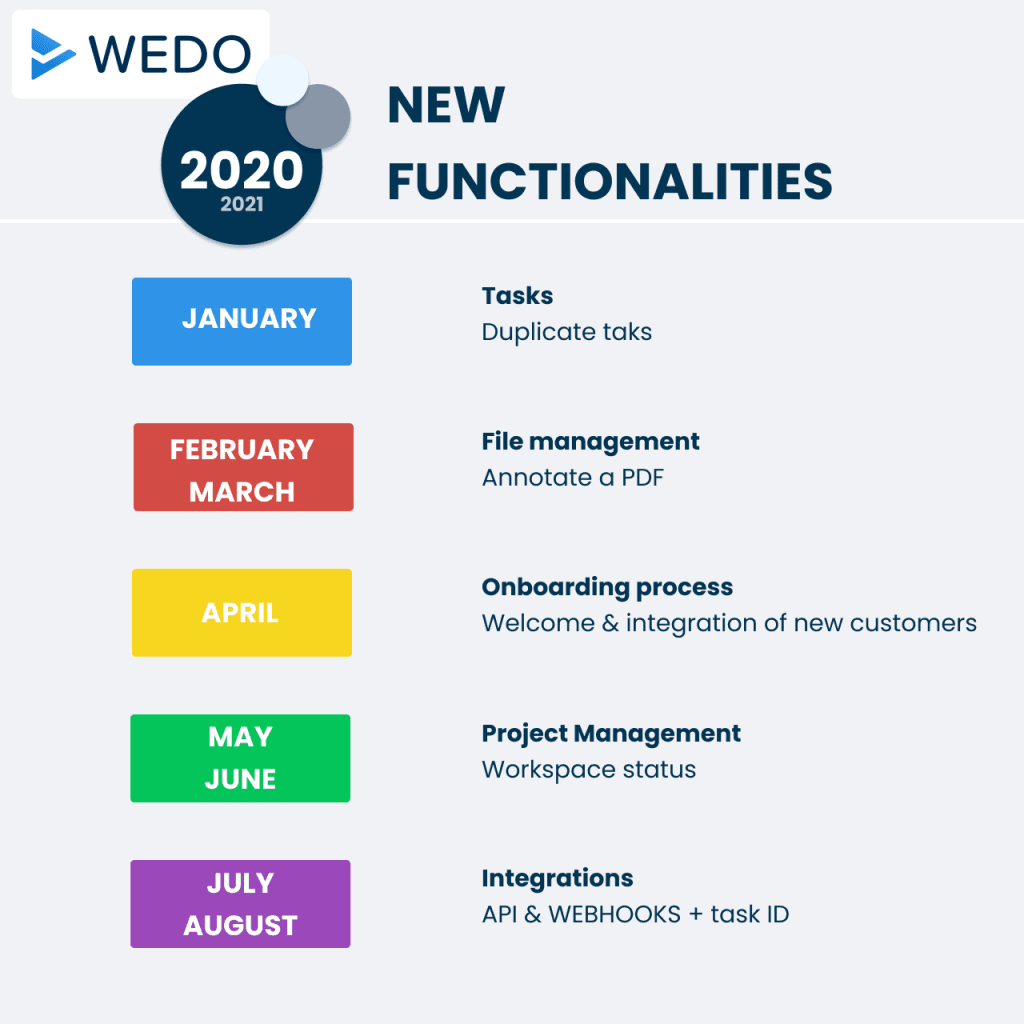 Our upcoming projects
While in 2020 the goal was to strengthen the sales team, this year we want to recruit new IT engineers specialized in application development to continue to improve WEDO.
Eventually, in 2021, we will continue to improve our solution to enable more and more organizations to simplify their collaboration. We want to provide a tool that is ever more powerful and intuitive! To achieve this goal, feedback from our users is essential and highly appreciated. So please feel free to give us feedback on your use of the platform and let us know your expectations and needs regarding WEDO. Our customer support team is always listening to you.
We look forward to showing you the next developments. 2021 will be a year full of new features and surprises!
With a little delay, the entire WEDO team wishes you a happy new year!
Ready to dive in?
Start your free trial today.