Manage your project
WEDO improves and facilitates the management of your projects. Through this article, discover the new features available online.
Plan your projects and follow up on their tasks
Add statuses to keep your team informed about the progress of the project
Get an overview of the progress of all ongoing projects
Plan your project
You can define a start date and a due date for a workspace if it represents a project. By limiting the duration of your project, you allow all the members of your team to keep the objectives in mind while respecting the time allowed to achieve them. If necessary, it is possible to modify these dates at any time. The date of your project passed while tasks were still in progress? You can see how many days past the deadline. Keep your team on track and complete your projects on time!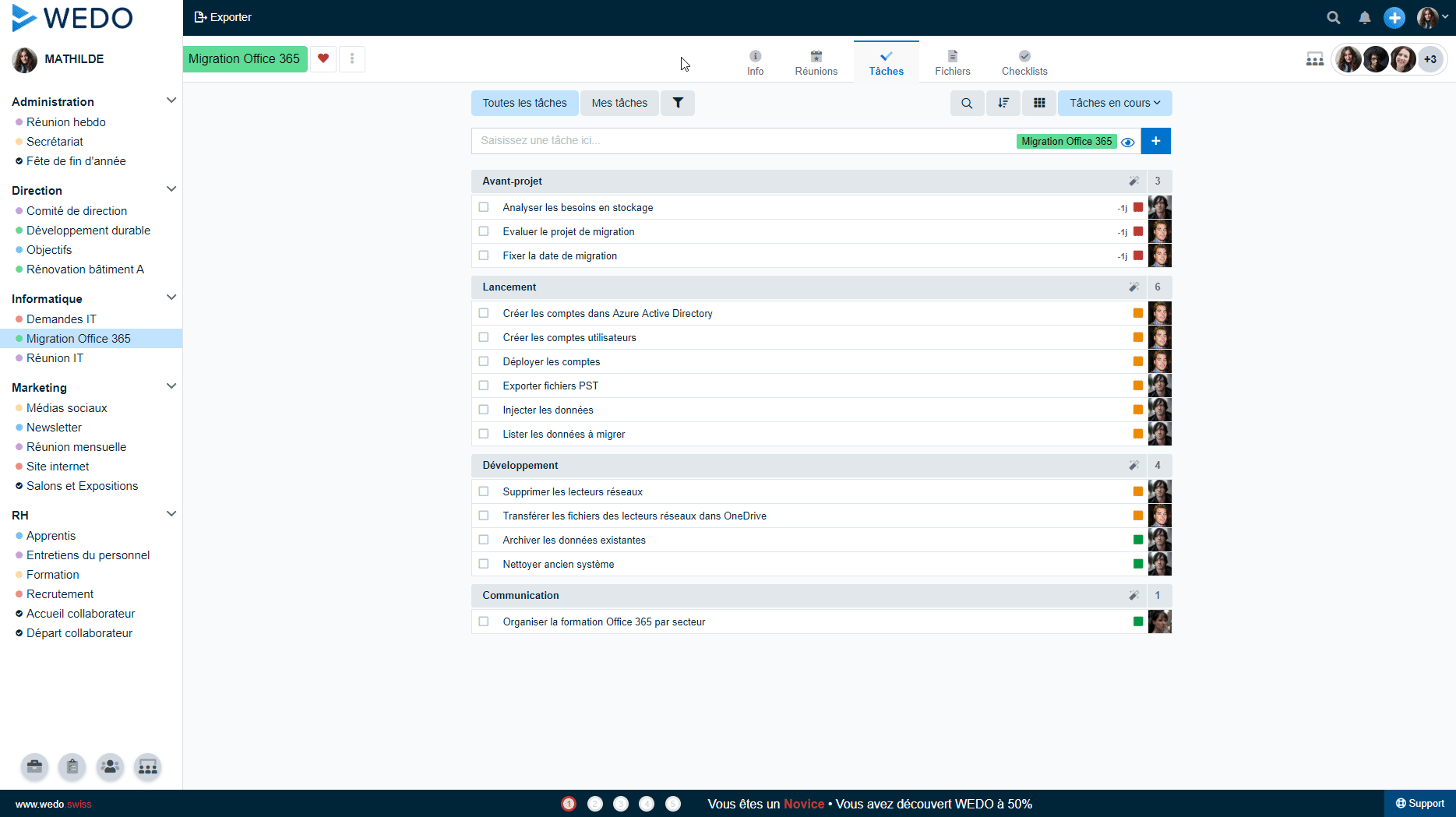 Manage tasks
Assign project tasks to your team members to keep them informed of the work. In addition to giving your workspace a deadline, define the deadlines for each job to best plan your project. This way, your colleagues will know exactly what is expected of them.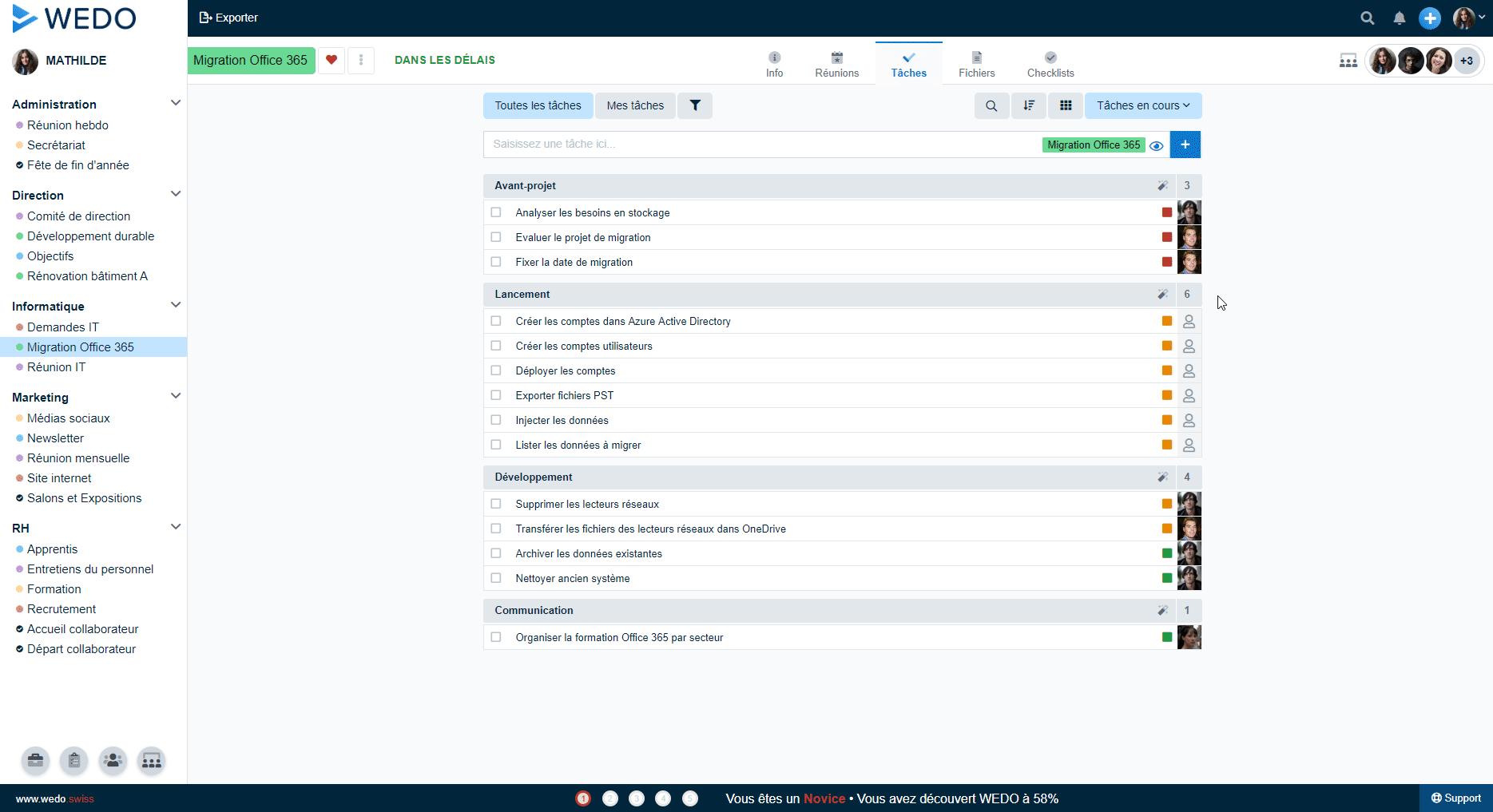 To get organized efficiently, chat with your team members via the comment field in the details pane of each task. With the task manager, your teams can manage their work and collaborate efficiently and intuitively.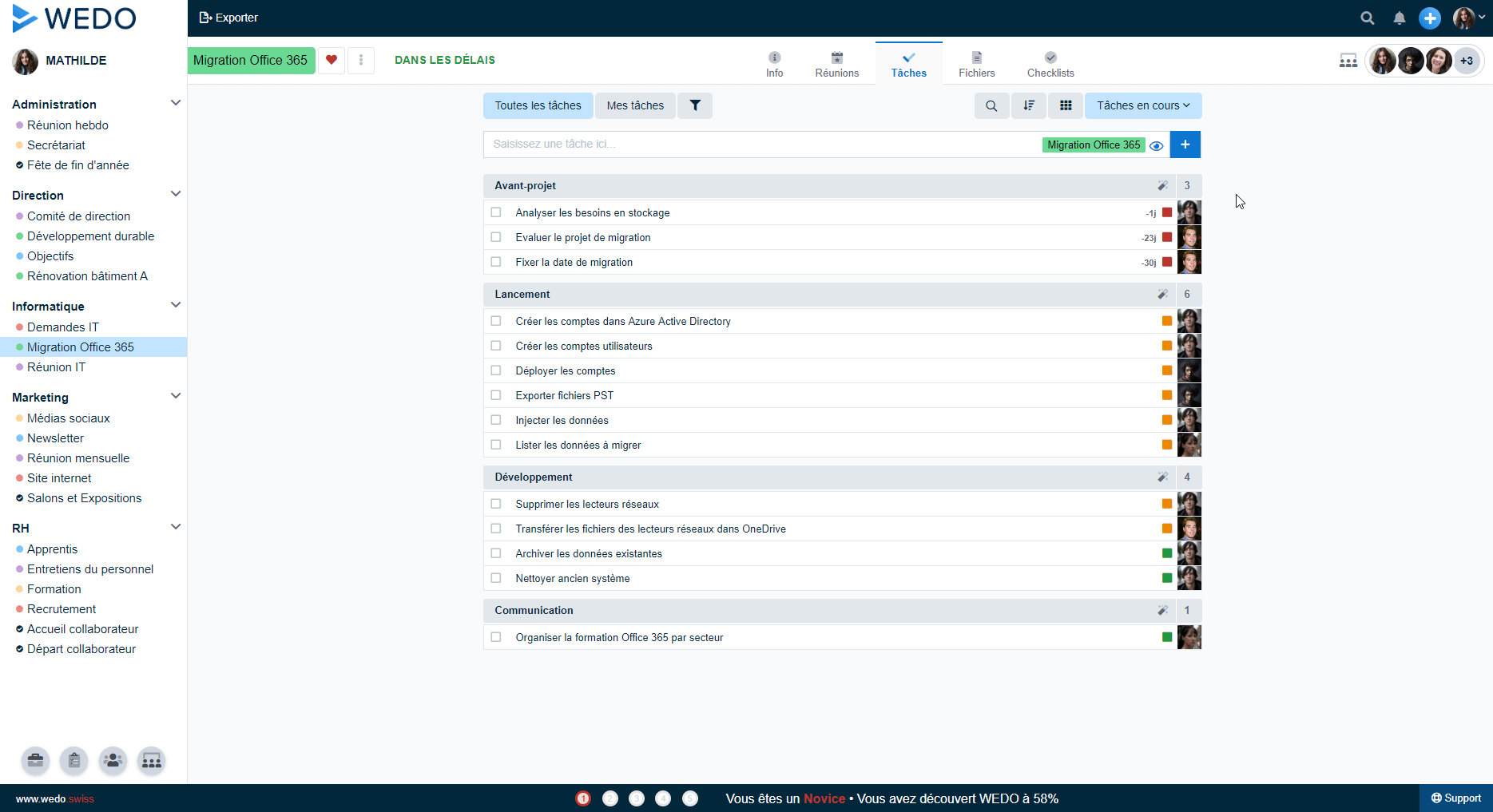 Keep your team informed
Do you have a critical piece of information to share with your team about the project at hand? Then, add a status to your workspace to notify your colleagues. To help, there are 3 types of status:
On schedule: your project is going well, you can add a title and a description in the status to specify the project phase, for example.
At risk: the project's progress is threatened, you can inform your team about the reasons for this update.
Late: the due date will not be respected, you can inform your team about the reasons for this delay and update the due date if necessary.
As mentioned, when you define a status, you can add a title and a description so that your team is always informed of possible changes impacting the project's progress.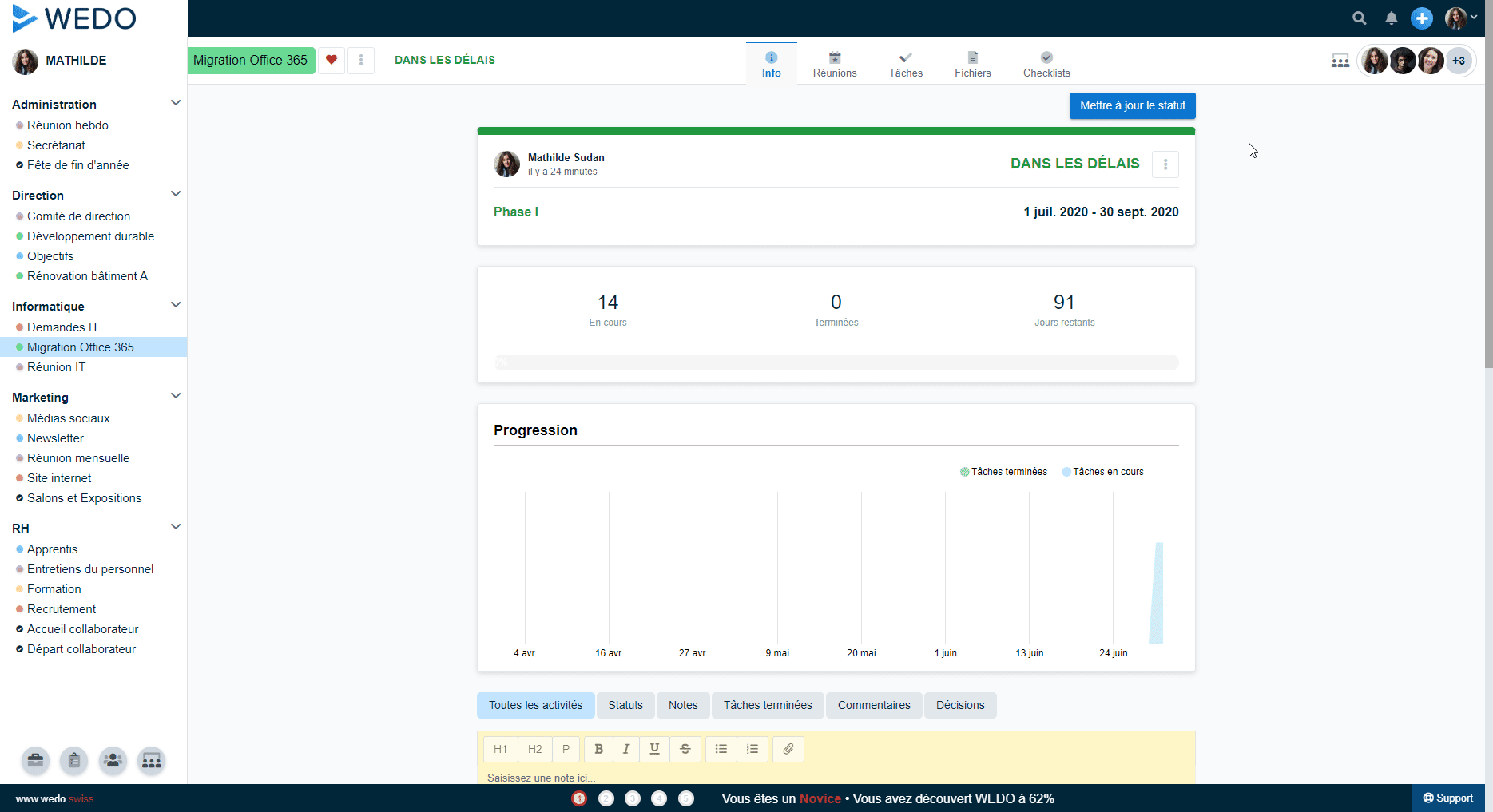 Check your project's progress
To give a quick overview of your project's progress, a progress bar changes as tasks are completed. This view allows you to see a project's significant status updates quickly. In addition, the system shows the number of tasks in progress and finished and the number of days remaining before the project deadline.
Manage all your projects
You are responsible for several projects and need a quick overview of their progress? WEDO allows you to view your workspaces in two different ways:
In mosaic: the spaces are represented in the form of cards
In list: the workspaces are listed, and you can sort them by name, status, progress, or deadline.
For both types of display, a progress bar informs you of the progress of each project, whether it has a deadline (blue gauge) or is ongoing (gray gauge).
WEDO allows you to keep an eye on your objectives and the progress of your projects grouped on the same platform. Your teams are informed in real-time of the progress of tasks and the latest project updates. They can collaborate efficiently in person or remotely. With WEDO, it has never been easier to get organized!
Want more details about these features? Check out the new collection in our help center.
Ready to dive in?
Start your free trial today.