What are the key figures for 2021?
Here is your work in WEDO in 2021. We are particularly proud of your investment in the platform and we are already looking forward to analyzing the performance you will achieve in 2022! Over 400 organizations have made WEDO their daily collaborative tool. We want to take this opportunity to thank you for your trust, that motivates our entire team to give the best of itself to continue this wonderful adventure. ✨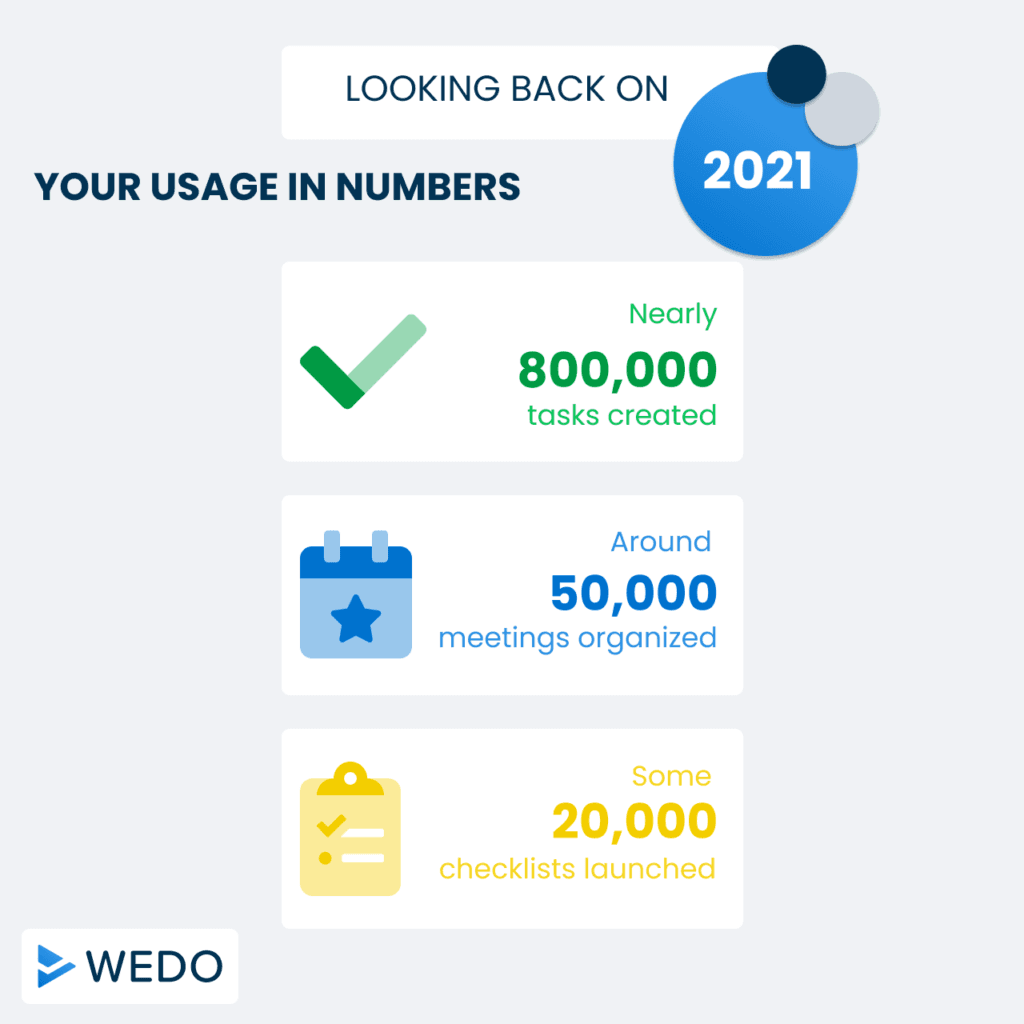 The WEDO team grows
During the past year, it is the development team that has been in the spotlight at WEDO 👨🏻 💻. In August 2021, we had the chance to welcome two new added values to the team. Victor Pirat and João Ventura came to strengthen the development team in order to allow us to achieve our objectives in terms of continuous improvement of the platform. As Full Stack Developers, they quickly contributed, each in their field of expertise, to the launch of multiple new features. Today, four people are in charge of the development of our tool. Soon 5 who knows? We are already looking forward to welcoming future WEDO employees in 2022.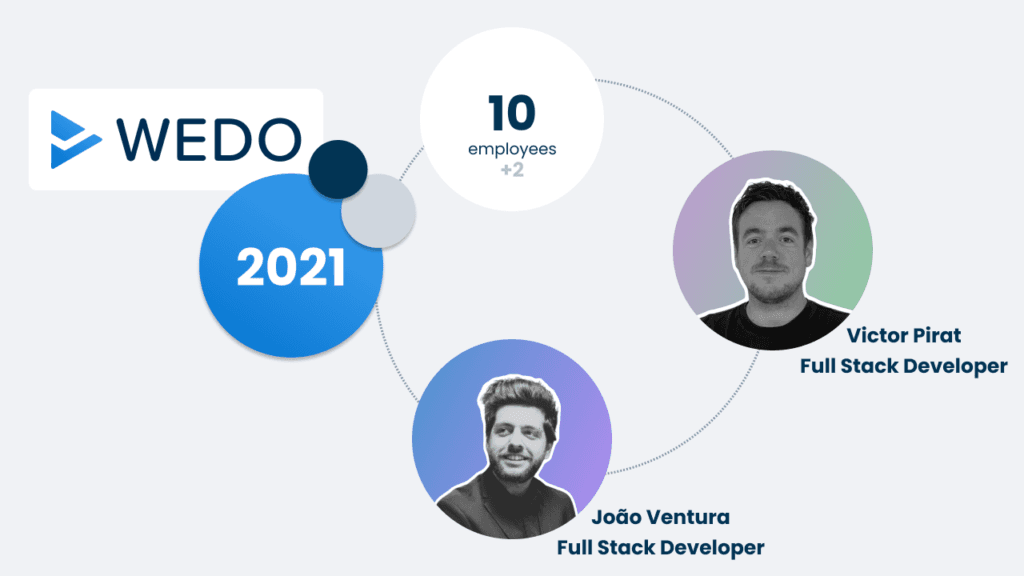 Customer service always at your disposal
We are particularly proud of our customer support figures. More than ever, we remain at your disposal with a response time of about 5 minutes! That's almost 4 minutes less compared to 2020. Our customers appreciate the speed with which they can get their questions answered. In addition, they can access a help center available in French, German and English at any time 📚. We also remind our customers that it is possible to get new training in case your team grows or needs a reminder about using WEDO. With the launch of the new Meetings module, we have once again measured the importance of customer support available at all times. We were delighted to be able to help you, via chat or during a video conference, to get started with new features recently developed. You have not yet had the chance to attand one of our coachings? Contact us now via support to set up an exchange with our team.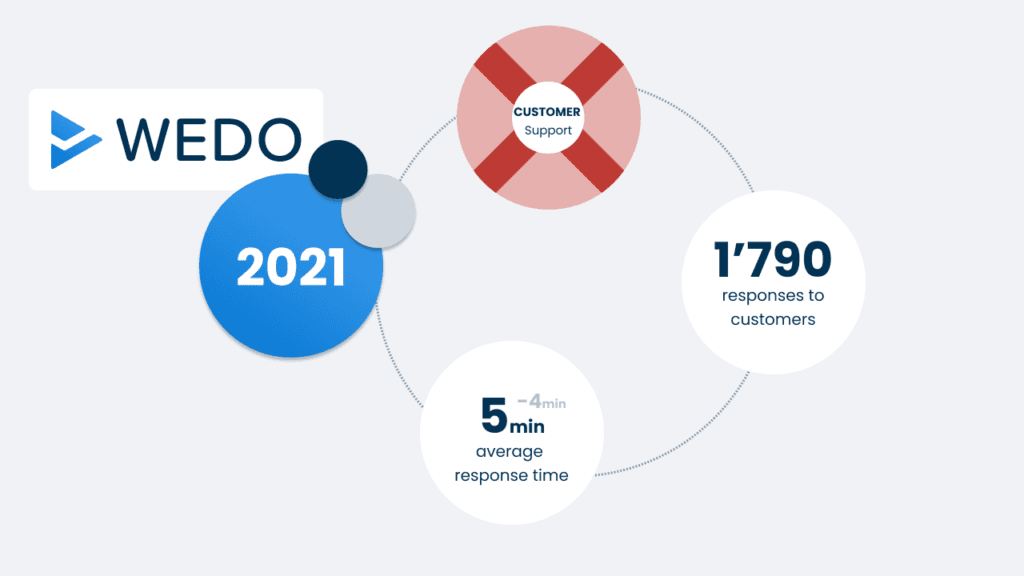 2021 - mainly a brand new Meeting module
Let's review the features developed in 2021 as part of the Meeting Topics update 🚀. In regard of the year 2020 - which was rich in diverse and varied development - in 2021 our team focused exclusively on the Meeting module which has been greatly improved and optimized. Aware that these changes must be adopted by our users, we emphasize that we remain at your disposal for training and exchanges by videoconference to help you daily in the preparation and follow-up of your meetings.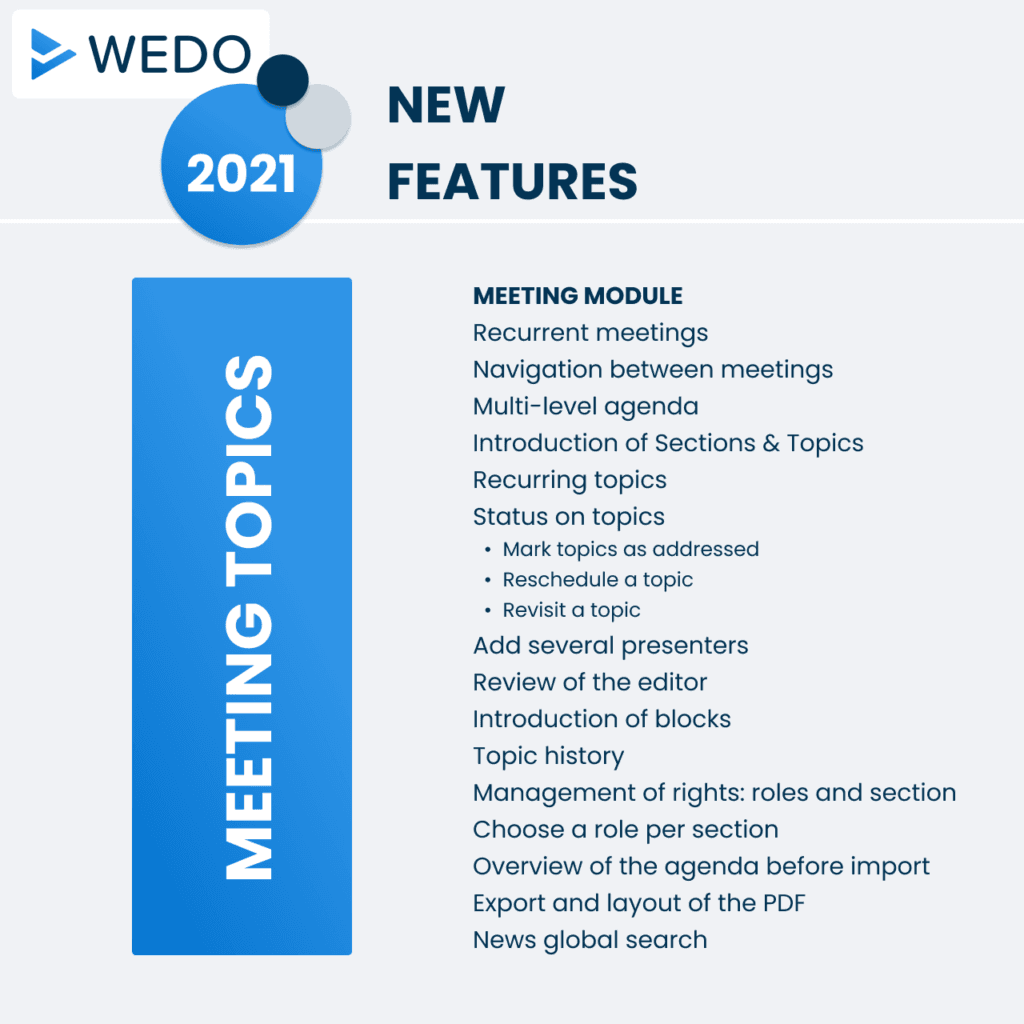 Looking ahead to 2022
In 2020, we expanded our sales team and set the goal of welcoming new employees in the development team. Objective therefore achieved in 2021, with the arrival of two computer engineers specialized in web application development. Our goal for 2022? 🎯 Constantly improve our tool to make it more efficient and intuitive! Many of these developments have been inspired by feedback from our users. We are committed to providing our customers a collaborative platform that meets your needs and expectations. In 2022, let's make this goal a common challenge! Do not hesitate to send us your user feedback via the support. There is still time to wish you a wonderful new year of happiness and success! 🎇
The WEDO Team
Ready to dive in?
Start your free trial today.