Being able to work effectively outside the office can seem difficult at first glance. At home, we don't necessarily have such a good environment for concentration. In addition, we are often faced with many distractions that sometimes prevent us from functioning optimally. Therefore, when we work from home, it is essential to organize ourselves carefully by planning our various tasks in order to maximize our efficiency and productivity. Before starting your day, take the time to write down, prioritize and plan your daily tasks.
WEDO offers a powerful task management system to organize your weeks and days with a few clicks in a simple and efficient way. The tool also facilitates collaborative task management so you can work with your colleagues wherever they are. Through this article, discover how to manage your activities using WEDO.
Enter your tasks in your personal space
With WEDO, you have a personal space where all the tasks that concern you are grouped together. Take your e-mails, personal or internal notes, and current projects in which you are involved to summarize your work. Then segment your workload into different tasks and enter them directly in your personal space. Our advice: use short titles and infinitive action verbs to enter your tasks.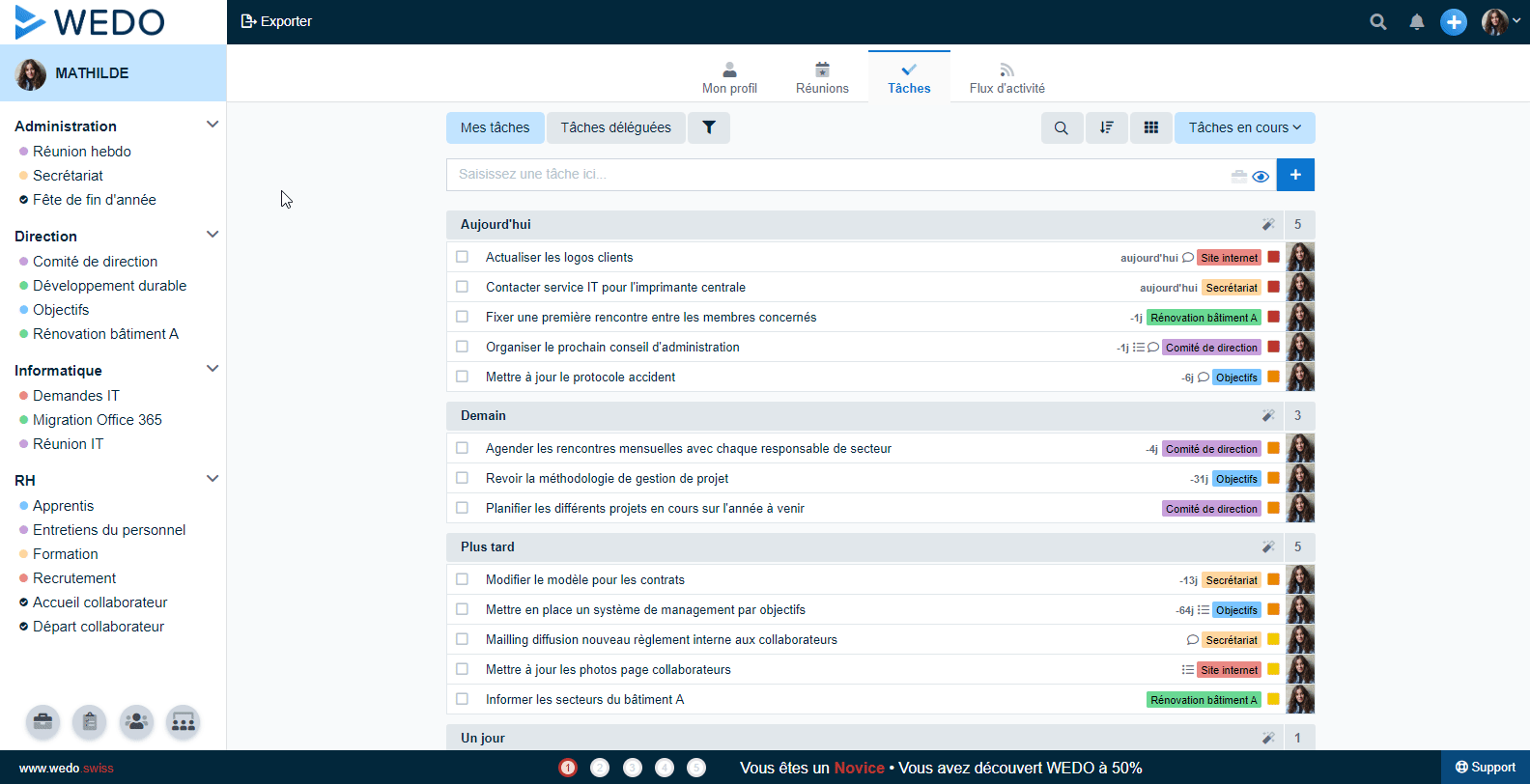 Prioritize your tasks
Once you have entered your tasks, determine the priority given to each of them. To facilitate this step and allow you to work on the important and urgent first, WEDO integrates the Eisenhower matrix. According to this system, divide your tasks according to 4 criteria:
Urgent and important tasks
Non-urgent but important tasks
Urgent but unimportant tasks
Non-urgent and non-important tasks
This distribution, which should be established according to your objectives and needs, will encourage you to work on the important and urgent as a priority. Therefore, treat urgent and important tasks as a priority and plan non-urgent but important tasks. Urgent but non-important tasks usually represent tasks related to other people's objectives (tasks to be carried out as part of a collective project, for example). You can therefore delegate them to third parties whenever possible. Finally, leave non-urgent and non-important tasks aside. These can constitute a kind of "suggestion box".
And with the wave of a magic wand, you can prioritize all your tasks with WEDO:
Plan important tasks
Once you have determined which tasks are most important, you can plan for their completion in the short or long term depending on their degree of urgency. You can first organize your week and then divide your tasks according to your work days. At the end of each day, take stock of what you've accomplished and reschedule tasks that you wouldn't have had time to deal with. Always keep an overview of all your activities.
In WEDO, the planning date is the date on which you want to perform the task. It differs from the due date, which is the date on which the task is to be completed. With just a few clicks, you can easily schedule your tasks according to your schedule using fast scheduling tools: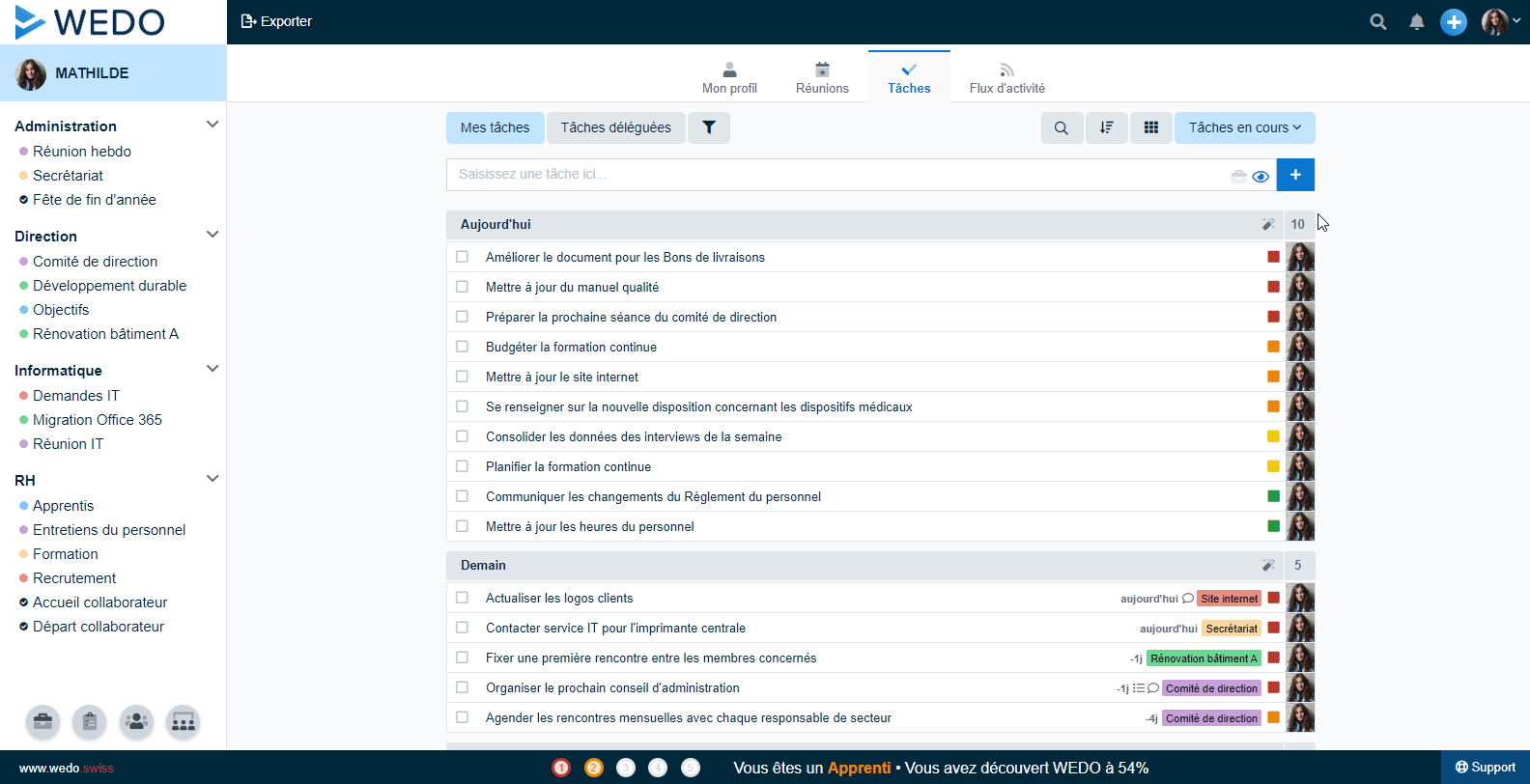 Our tool also makes it possible to manage recurring tasks according to 4 frequencies: daily tasks, weekly tasks, monthly tasks and annual tasks. Thanks to the recurring task functionality, ensure the management of recurring activities and don't miss any occurrence! Tasks will simply appear at the right time.
Define due dates
When you plan your tasks, also remember to specify their due dates if you know the exact date. This way, tasks that are overdue will be highlighted so that you don't miss any important deadlines. With WEDO, you can set the due dates for your tasks in the blink of an eye.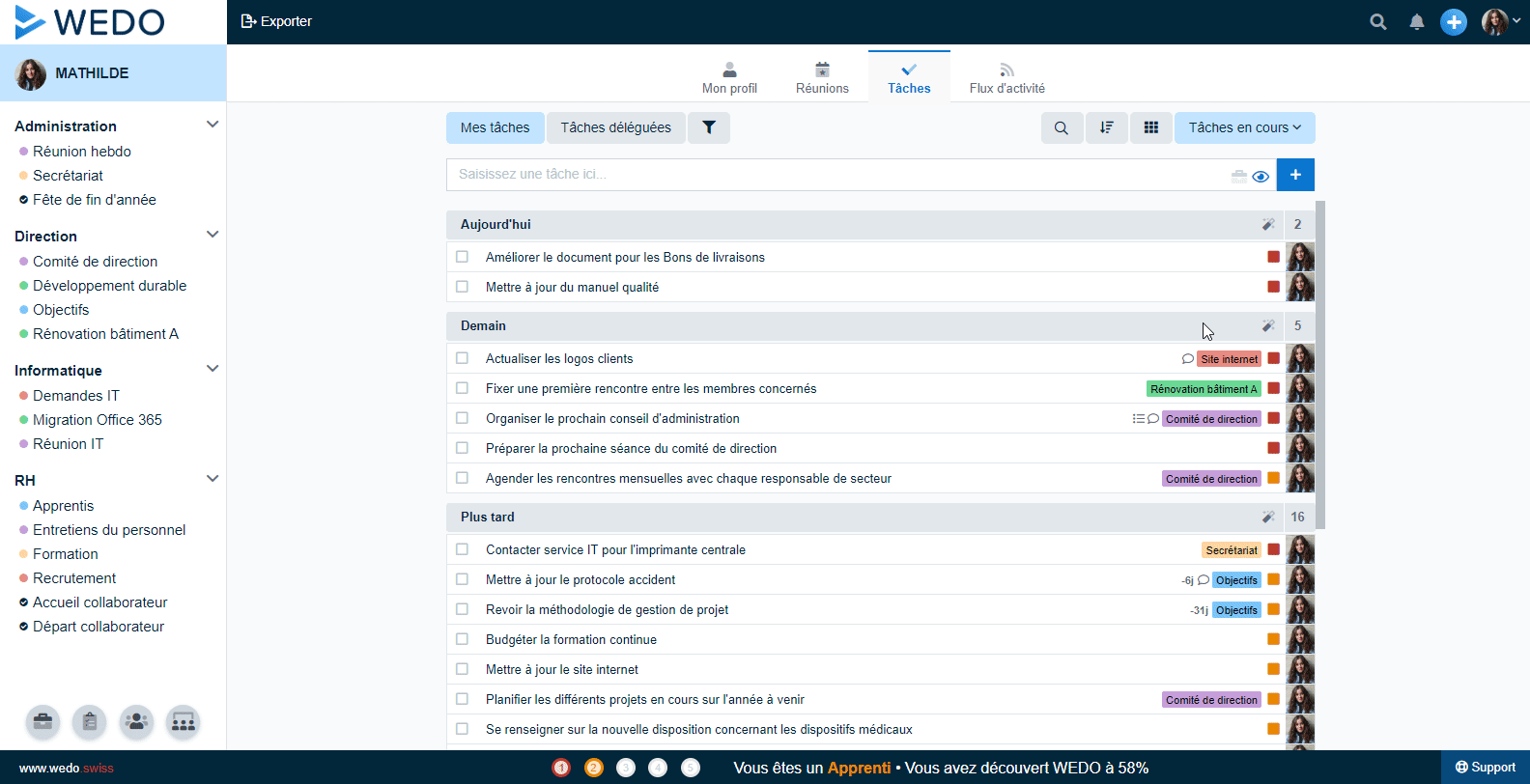 Tip: Would you like to have an overview of all the tasks that are coming due soon? Create a custom filter to display all the tasks that are due in the next X days!
Delegate certain tasks
In your daily work, you are probably required to collaborate as a team. Non-important but urgent tasks may be the ones you can delegate: they are not considered important in relation to your responsibilities but still need to be followed up and completed in a short period of time. These tasks may be those that contribute to the achievement of a collective project and therefore do not depend solely on you. When delegating a task to a colleague, make sure that it is followed up by adding a comment, for example, explaining why you are assigning the task to him or her. You can also define a due date to limit the time it takes to complete the task. Our advice: be as clear as possible in your statement to simplify collaboration.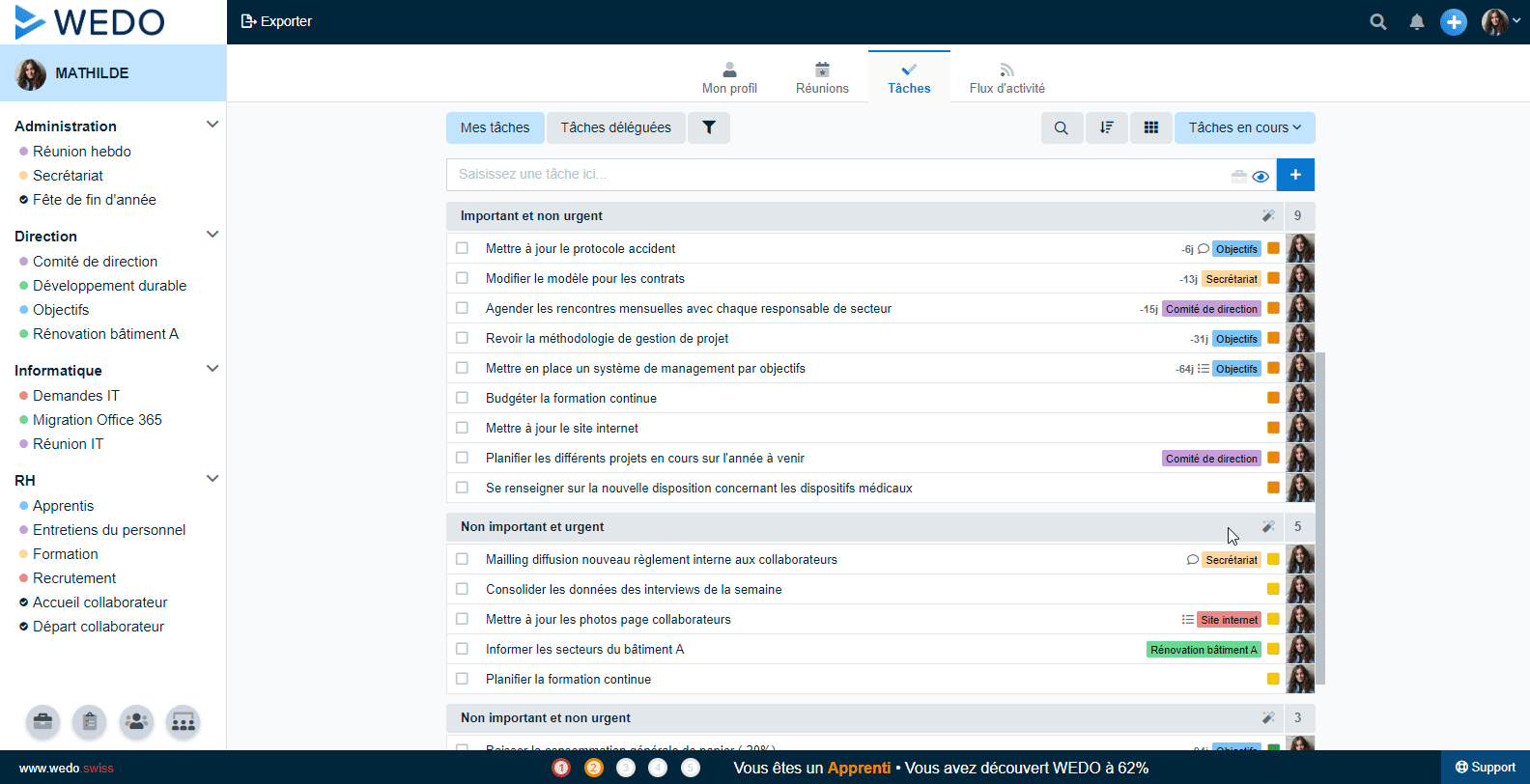 Share your tasks with workspaces
WEDO allows you to handle your personal tasks as well as those inherent to a department, a work group, or even a department. Create workspaces to share tasks with its members and track the progress of delegated tasks. Comment on tasks to share important information with your team. Thanks to the tool's built-in notification system, your colleagues will be notified of any important changes to tasks. Collaborative task management will be even more efficient, especially when team members are working remotely.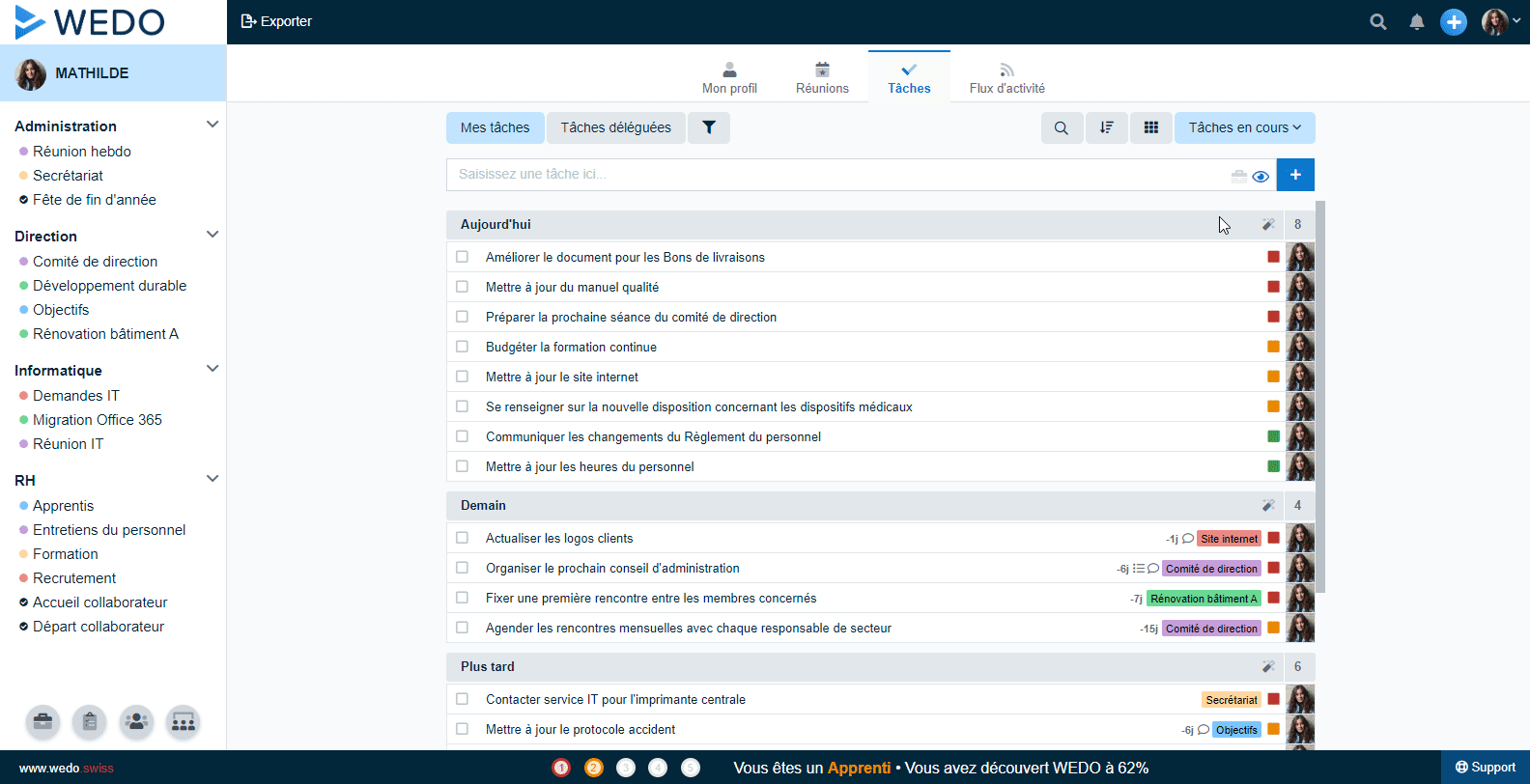 Tip: Would you like to report on the progress of each task in a specific workspace? Create a custom "progress status" field so that all members of the workspace can observe the progress of the project or activities in progress.
With WEDO, set the rhythm of your teleworking days and give a framework to your activities and those of your organization. With the powerful task manager, organize your schedule and collaborate with colleagues at the office or from home. By making WEDO part of your daily routine, you'll be able to keep an eye on the progress of your tasks and those of your teams. Collaborative platforms facilitate internal exchange, especially when your teams need to interact remotely. In addition, the fact that you can gather the bulk of your activities on a single platform allows you to limit exchanges via other channels such as telephone or email. Getting organized to work efficiently from home requires certain prerequisites: give your employees the digital tools they need to carry out their activities. The result will be quality internal work and communication!
Would you like to manage your personal tasks and those of your teams using WEDO?
Ready to dive in?
Start your free trial today.