When we are used to working with our colleagues on a daily basis, it is not easy to opt for telework while maintaining our efficiency. But then how can we encourage teamwork and maintain the management of our projects and meetings remotely?
First of all, it is a matter of opting for simple and intuitive collaborative tools that will guarantee the efficiency of your teams. Offer your employees optimal visibility by bringing together the essence of your activities on a collaborative platform.
WEDO is a web-based solution that allows you to collaborate with your colleagues easily, even remotely. With WEDO, keep working on your projects through workspaces and collaborative task management. Prepare your meetings all together and conduct them using an attached videoconferencing solution to meet virtually with participants. Share your screen during video meetings so that all participants are on the same wavelength.
WEDO is an ideal ally for teleworking! We explain it to you in this article.
Prepare your remote meetings in a collaborative way
To ensure the smooth running of a remote meeting, the speakers must be prepared in the same way as for a physical meeting.
With WEDO, each participant can complete agenda items from their account. Items can be complemented with paragraphs, files and tasks to ensure the efficiency of your future digital exchanges. Participants can also enter private notes if they wish to personally prepare their future interventions for the virtual meeting. Once the agenda is completed, set the date and time for the videoconference with the various participants so that everyone can take part in the exchange at the appropriate time.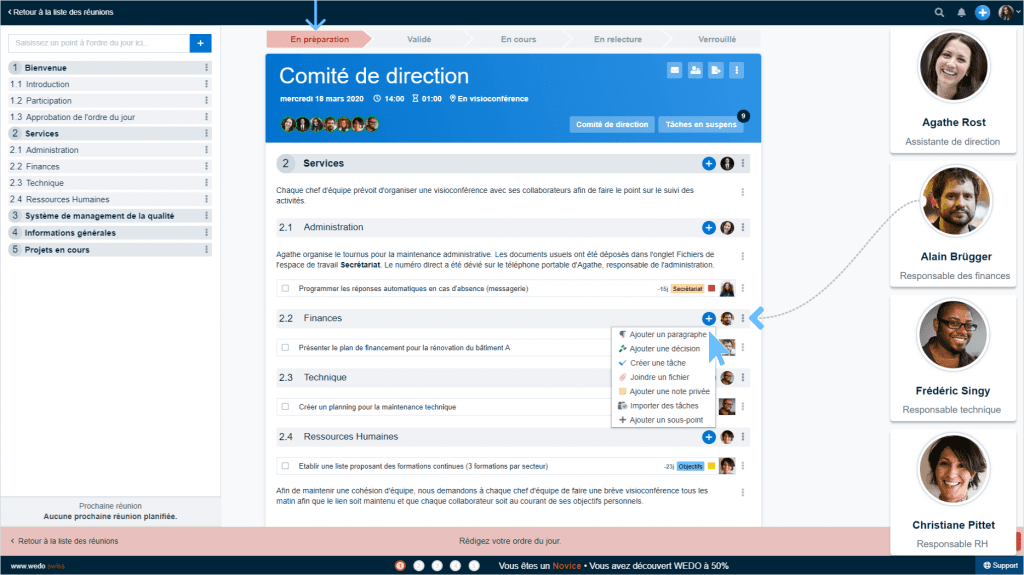 Opt for a videoconferencing solution
At WEDO, we are used to working remotely while ensuring active collaboration. We have therefore opted for solutions such as Zoom or Slack to maintain the link between our team members even when they work from home.
It is entirely possible to use WEDO to manage your meetings via videoconferencing. In combination with our tool, you can choose the additional solution that best suits your needs. The videoconferencing solutions offered by Zoom, Slack or Microsoft Teams allow you to share your screen with all the participants in order to facilitate your virtual meeting. If you have not yet mastered the art of remote meetings, don't hesitate to do a few tests before your first meeting to make sure you have the tool in hand.
During the video meeting, the editor completes the report in real time. The dynamic and instantaneous note-taking allows you to keep track of the discussions. After your video exchanges, your teams are directly operational and can access a support allowing them to monitor operations even remotely.
To ensure that your teams can work remotely, opt for a video conferencing solution and combine it with WEDO to collaborate and manage your team meetings in any situation.
Note that for each solution, you can opt for video or audio only communication. So that your digital exchanges look like real meetings, focus on video communication :-)
Zoom is our preferred video conferencing solution at WEDO for networking, product demonstrations and remote support cases. Using a simple link, participants join a virtual room and take part in the meeting. The tool is interesting because it does not require any prior installation for all participants. Only the organizer of the meeting has to create an account in order to generate a link for his colleagues to access the virtual room. Moreover, with Zoom, each participant has the possibility to share their screen. The solution is free as long as your meeting lasts a maximum of 40 minutes and has less than 100 participants.
Do like us, use WEDO in conjunction with Zoom to ensure your remote meetings run smoothly.
Share your tasks with your teams via collaborative workspaces
Beyond meeting management, WEDO allows you to create workspaces to ensure collaboration between your teams. A workspace is simply a group of people with whom you can share meetings and tasks. Create workspaces to manage your meetings, departments or projects.
In telework, it is not always easy to find the right practice for asking questions, seeking advice or soliciting feedback. The platform's integrated feedback system allows you to quickly talk to a colleague without having to resort to email or telephone contacts. From these collaborative spaces, communicate effortlessly by commenting on tasks to share important information. Keep track of ongoing tasks while keeping communication simple and intuitive.
With fewer direct interactions, the workspaces are your best allies in continuing to convey information, keep you up to date on current affairs and ensure the progress of your teams' various projects and actions.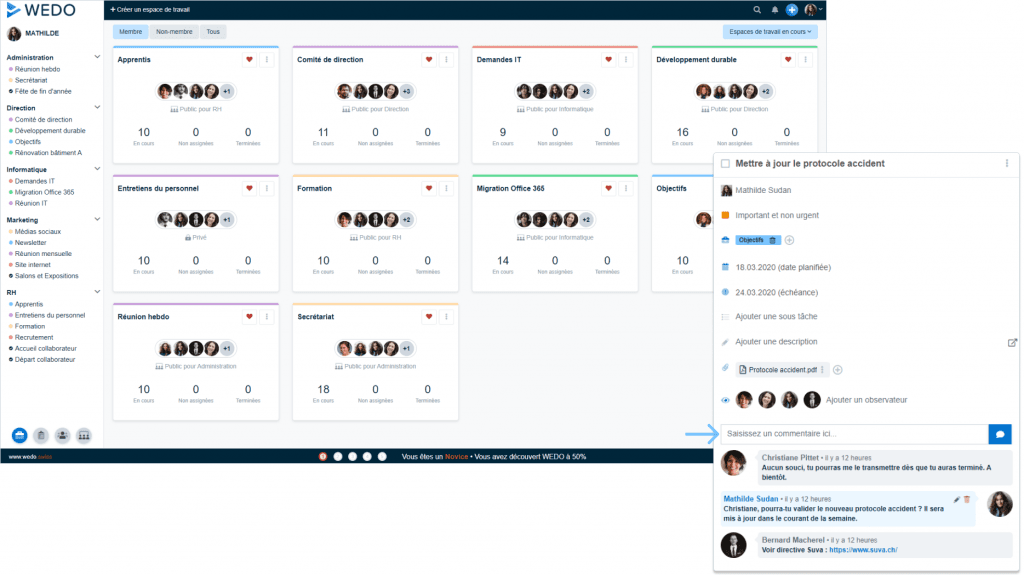 Share files with your teams
Each workspace contains a Files tab that functions as a folder. This allows you to share various documents with your entire team. It is also possible to take these files and attach them to tasks or agenda items for your meetings.
Provide your teams with all the documents they need for their daily work. Your employees will have all the equipment they need to carry out their work, whether they are in the office or at home.
Through this article, we have highlighted various solutions that allow you to work efficiently in a team, even from a distance! Simply choose tools that will facilitate collaboration and ensure simple and efficient communication. A collaborative platform such as WEDO will allow you to gather in one place all the information essential to the smooth functioning of your team.
Do you want your teams to be able to collaborate easily even remotely?
Info: WEDO offers chat support! We interact daily with our users and usually respond to them in less than twenty minutes. Our team is available for your employees to help them individually through the discovery of our tool.
The video conferencing tools we recommend in the article: Zoom, Slack and Microsoft Teams.
Ready to dive in?
Start your free trial today.